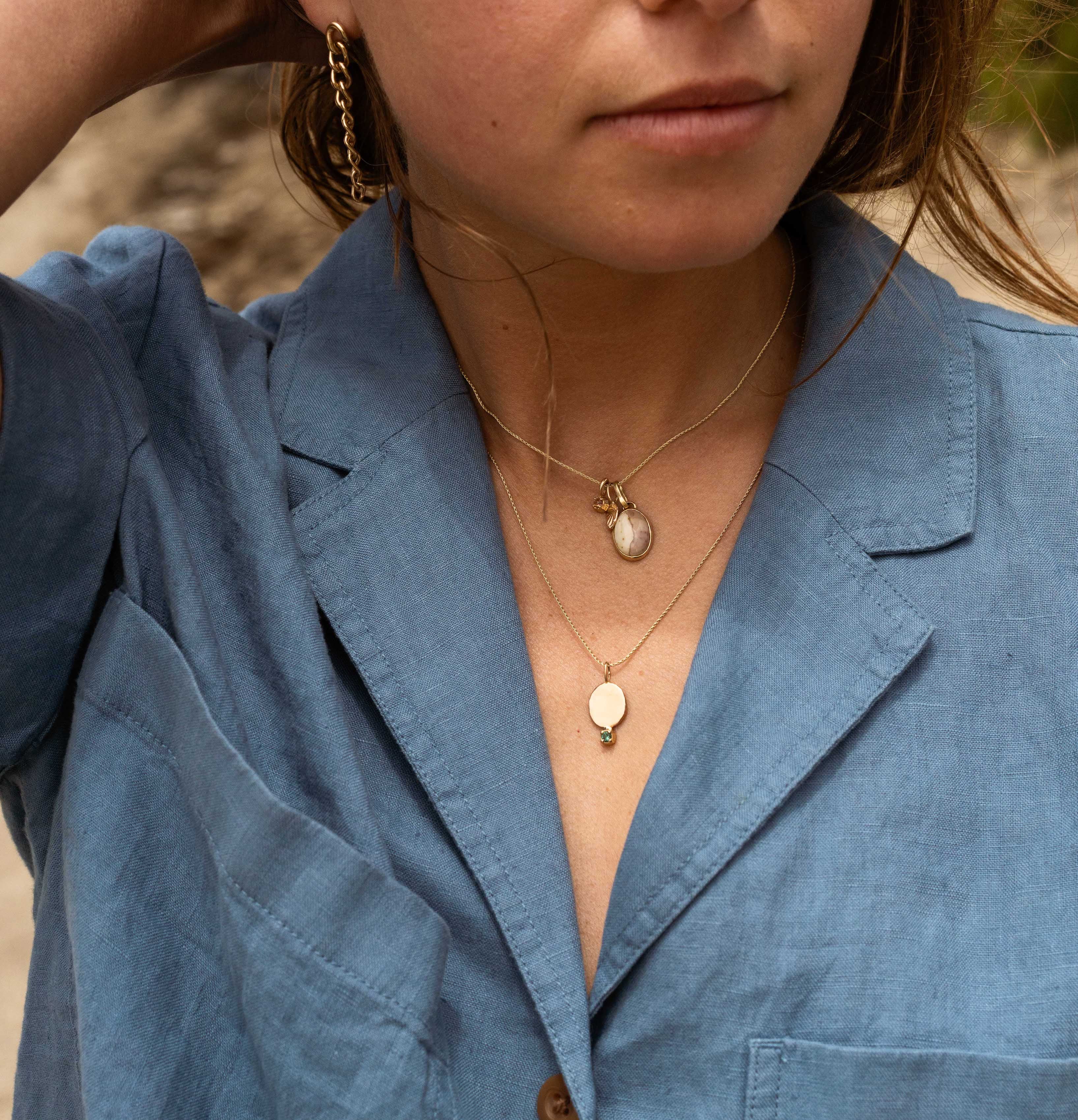 How I Became a More Sustainable Jeweler 
What is sustainable jewelry anyway?

The word "sustainable" may be overused these days, but that doesn't mean it should be overlooked.


With everyone throwing sustainability claims around, it's extremely hard to know who to trust.


Everyone has their own definition of what "sustainable" jewelry might look like. There's an argument (which I agree with) that jewelry, inherently, cannot be sustainable by nature of its materials. Precious metals and gemstones (like gold, silver, diamonds, and sapphires) are finite natural materials, meaning there is only a limited amount of them on the Earth. If we continue at the rate in which we're mining the Earth, these natural materials will eventually run out. The earth cannot sustain the mining industry.


However, I believe that even if the materials that I use can't be considered sustainable, I can still try to run my business day-to-day in a more sustainable and responsible way.


Many jewelers, including myself, have started to adopt different terminology to describe our efforts: responsible, ethical, intentional…


These terms might mean different things for different brands but for me, this means first and foremost that I stand for everyone along the supply chain to be treated fairly and with dignity. I work with materials that are mined responsibly, with safety equipment for the miners, hazardous waste programs, and reforestation plans. I support raw material vendors that encourage miners to work with less toxic materials and pay them a premium to support their livelihood and communities. I buy gemstones that are cut in responsible factories that pay their employees well and have proper ventilation. I intentionally do not buy from vendors who cannot provide me with information on where their materials came from.  

It's easy to get discouraged about global issues that may feel out of our control; however, I try to focus on smaller details and try to make better decisions that are within my control. Not everything in the industry has a negative impact; there is room for positive impact as well!
My Journey
The development of the Made Line ethos has been a long process for me and I am continuously growing, learning, and changing - both in my personal life and in the way I run my business. In fact, the two are the same. I run my business based on my personal values and beliefs.


The topics surrounding ethics and sustainability within the jewelry industry have a long and complicated history. I am not going to pretend like I am an expert who fully understands everything; however, I am doing my best to stay informed and updated so that I can provide high quality jewelry that we can all feel proud to wear. Diving deep into these industry topics will be another blog post for another day! 


In fact, I started this journey to becoming more responsible in my practices not too long ago. I started most of my beginning research as the Production Development Manager for WWAKE around 2016-2017. I worked closely with the founder, Wing Yau, to develop the in-house "green" studio, ethical sourcing, and the company's ethos. 

I've been making jewelry since 2008 and although I knew there were general concerns about the jewelry and mining industries (from brief discussions in college), I only knew surface topics. I knew nothing in depth and certainly didn't know enough to change my practices. To be honest, back then, I felt so behind that I was too intimidated to ask for help. It wasn't until I had the responsibility of doing the research for another company that I started to take it more seriously. 

While I continued my research for WWAKE, I couldn't help but get emotionally attached and dedicated to changing my own personal sourcing habits and studio practices. Although it was my job that nudged me into this research, I know that I would have eventually gotten here on my own; however, I would have felt more discouraged, lonely, confused, and less hopeful. Having Wing by my side throughout the whole process, I was really able to pull out of the depths of research, see the larger picture, and discuss how to implement both small and large changes throughout WWAKE and Made Line. The process was long and hard, but it was easier and more impactful when doing it with someone by my side. 

Along the way, I've learned to stay grounded and curious. To never assume anything and to ask a lot of questions. 

For now, my intention with this post is to simply share my journey of becoming a more responsible jeweler and to encourage my customers and fellow jewelers to learn and inform themselves so that they can make better decisions in the future, rather than feel shameful for not knowing. We all start at the same place and it's better to start learning and caring now, rather than later. 

I have a lot more work to do in sharing my research and story behind my ethos. I plan to do more blog posts about specific materials and sourcing stories.  

For now, if you encounter a jeweler (or any company for that matter) who makes sustainability claims, I encourage you to dive deep! Ask more questions and get curious!