Jewelry for the sensitive, the curious, the ever-evolving.
Ignite your curiosity and invite meaningful connection to your everyday life.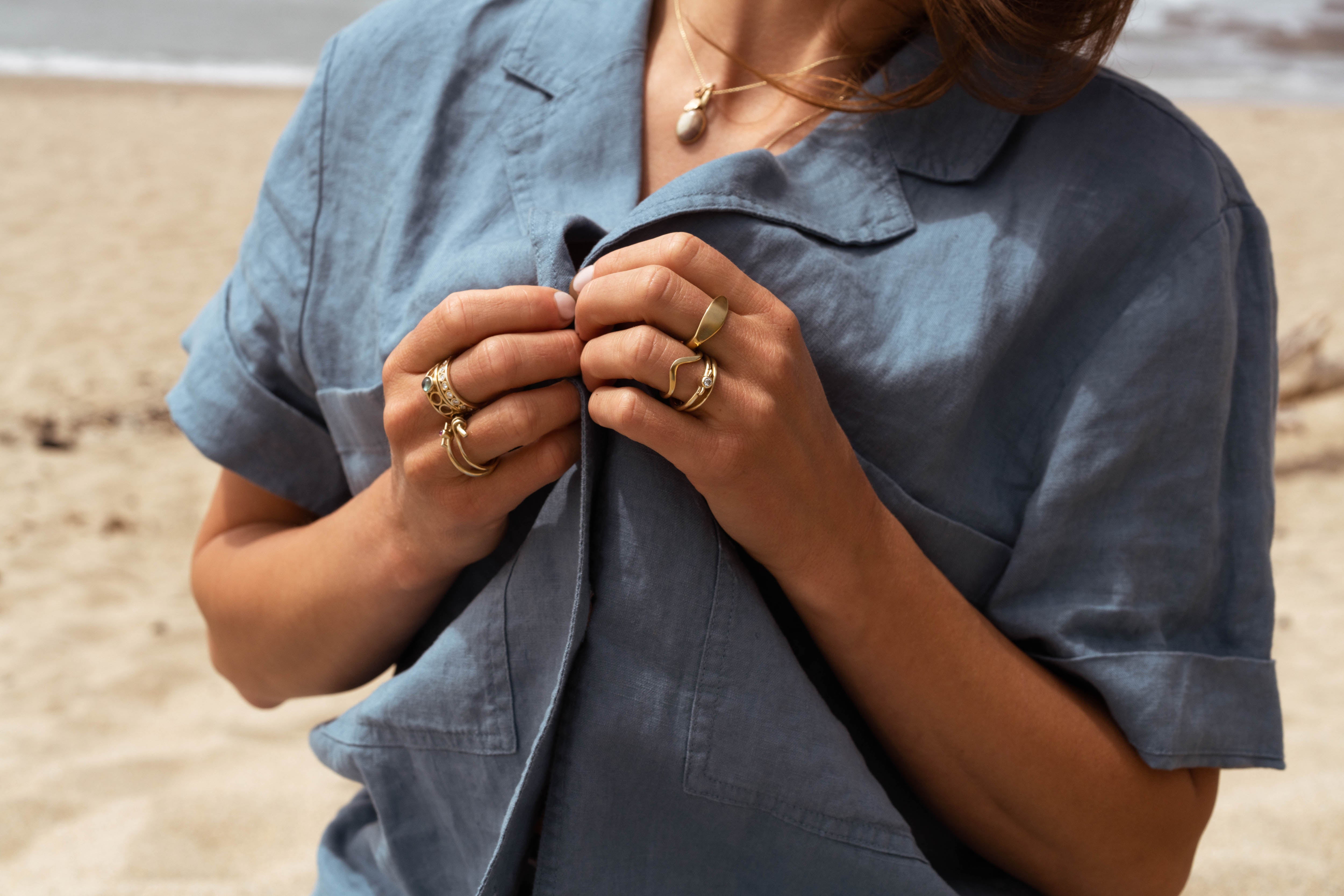 Effortless. Seasonless. Responsible.
Made Line Jewelry aims to become an integral part of your heritage and personal narrative, something you will cherish forever but wear immediately.
I believe that jewelry should be more than just an accessory - it should evoke a sense of comfort and belonging for the wearer. 
My mission is to create jewelry that absorbs the stories of miners worldwide, gem dealers, stone cutters, and casters, channeling their stories through my jeweler's hands into yours. I envision these pieces will be passed down from your hands to your beloved ones, to be cherished for generations to come, creating an everlasting and beautiful cycle of storytelling and connection.
With a deep appreciation for the past and a respect for the future, I design pieces that draw inspiration from ancient forms and traditions, all while considering the impact of our choices on the world we will leave behind. The materials take precedence, guiding the design process, while always focusing on creating timeless and classic styles that transcend seasons and fleeting trends. 
Let me help build your capsule jewelry collection with elegant, high quality pieces that make a gentle statement and are designed to be worn effortlessly throughout the day, every day. Whether you find yourself in the garden, immersed in your artistic pursuits, traveling, or working in the studio, my jewelry aims to make you feel naturally elevated, inspired, confidently bold, and assured. I strive to bring ease and comfort to your day, while ensuring that you remain captivated and always carrying deep meaning with you.
Thank you for joining me on this journey. I invite you to explore the collection and discover the jewelry and sourcing stories that resonate with you and peak your curiosity.
xx
Maddy
(founder/designer/goldsmith)
My Backstory
Growing up in a family of crafters, collectors, and entrepreneurs, I learned early on that I feel most at-home when I'm creating. In those early days, my sisters and I would spend entire days building enchanting fairy houses adorned with flowers and shells in our mother's garden, or engrossed in craft projects at my grandmother's house nestled amidst the redwoods, surrounded by her vast collection of trinkets. 
These precious moments sowed the seed within me—it was truly a time when my creativity blossomed. 
As I entered adolescence, navigating life as a shy and introverted individual became a challenge. Inadequacy plagued my sense of self-worth, leaving me adrift in the quest for purpose. However, after I delved into the world of jewelry-making, a transformative shift occurred. It was a pivotal moment; for the first time I experienced a newfound confidence and self-value. I had a glimpse at a path forward in this world, engaging in something that granted me a profound sense of worthiness. 
Jewelry became my language—a tool for deep self-exploration and a powerful way to connect meaningfully with others. To this day, my sense of purpose remains steadfast: crafting jewelry that serves as a catalyst for transformation, empowering anyone who adorns it. 
Made Line Jewelry speaks to the sensitive, the inquisitive, and the ever-evolving, igniting curiosity and inspiring a journey towards profound meaning and connection in our everyday lives.
Handmade in Santa Cruz, California
with certified recycled metal, certified Fairmined metal, and ethically-sourced, traceable gemstones.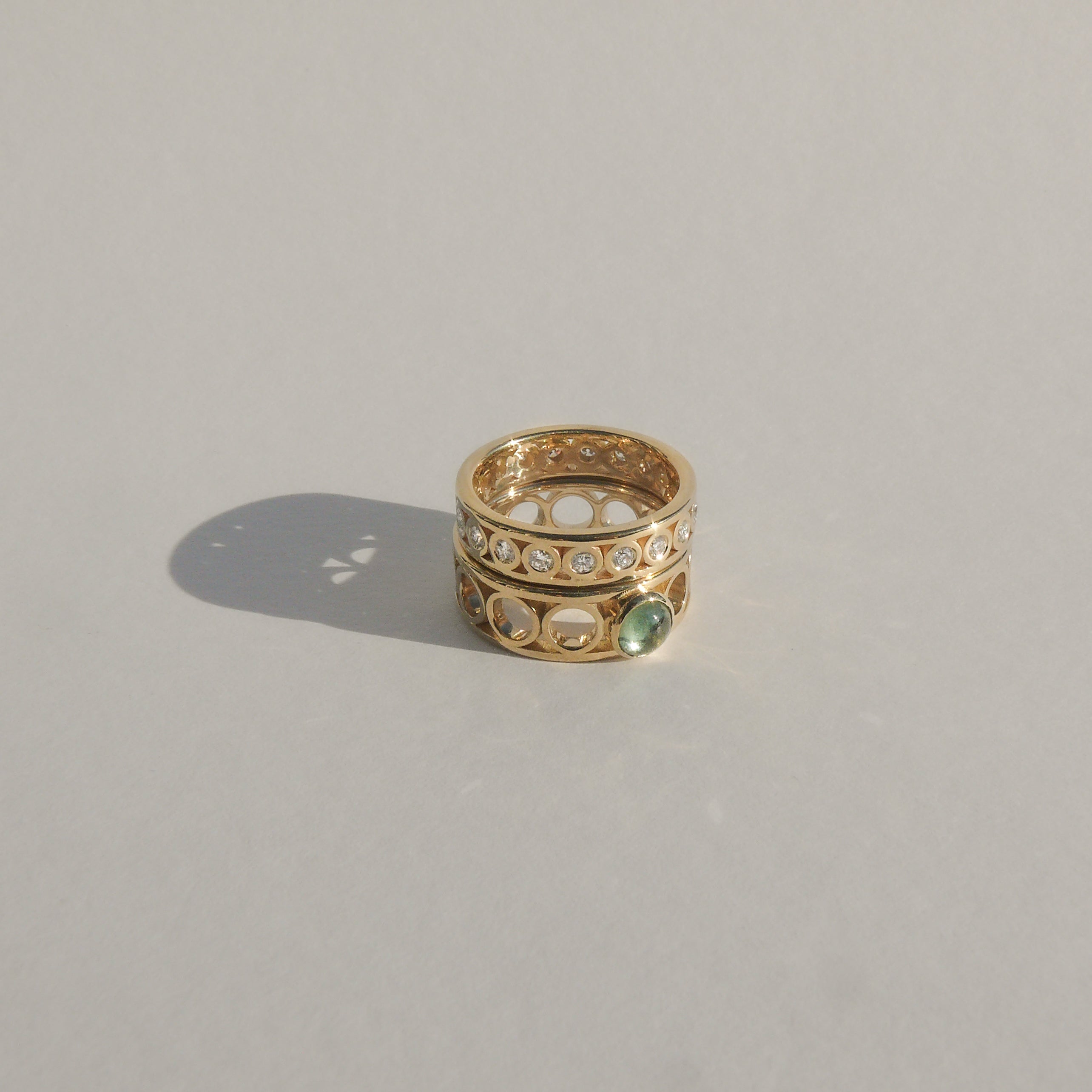 My everyday staple.
Gold Signet Hoops in any size. I typically wear small ones during the day and switch to larger ones at night.
My favorite statement earring.
When I want to feel a little extra special with some delicate movement.
On my wishlist.
Large Blossom Medallion customized with a diamond, sapphire, and ruby.